Walmart Arkansas Music Pavilion | Rogers, AR
The self-acclaimed "anti-popstar" hitmaker, Halsey", who dropped a slew of certified platinum singles throughout her career is back, exclaiming 'If I can't have love, I want power' in her newest record. The powerful woman dropped two singles "I Am Not a Woman, I'm a God" and "You Asked for This" from her latest album that exudes her gravitating power. Catch the one and only Halsey bring and exude her power at Walmart Arkansas Music Pavilion on Wednesday, May 25, 2022, on the 'Love and Power Tour' where you can expect her to perform her biggest hits and live renditions of her latest tracks from "If I Can't Have Love, I Want Power". Take your spot at the 'castle where Halsey sings her best anthems like "Now or Never", "Graveyard", "Eastside" with Benny Blanco and Khalid, "Without Me", and many more live on-stage by booking your tickets now!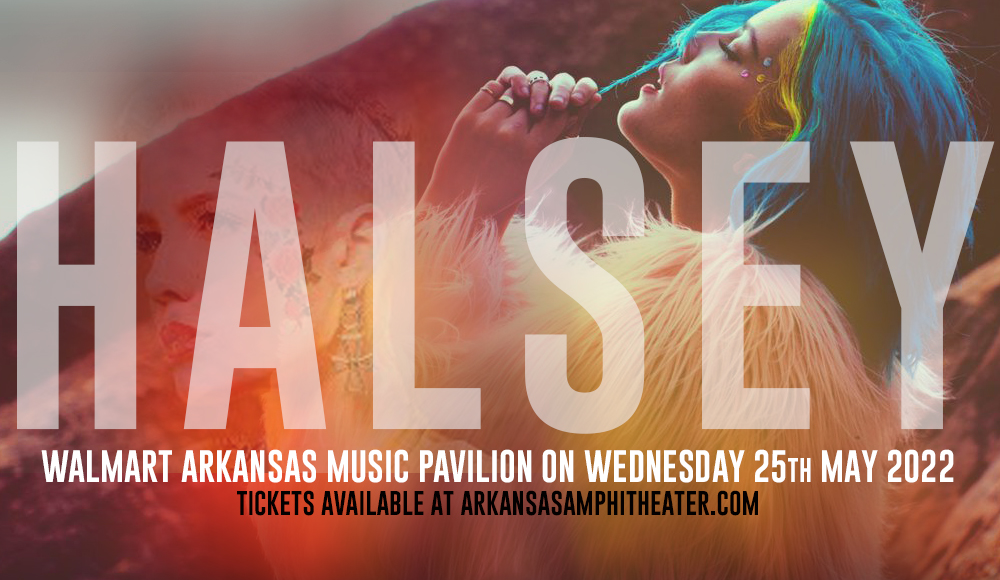 The goddess who took the world to the musical 'eastside was born as Ashley Nicolette Frangipane in New Jersey. Having faced rough days in her childhood, it was music that gave her the strength to go on. Before playing the guitar, she first learned to play the cello and violin. At the age of 17, she began writing songs as Halsey Street in Brooklyn, where she stapled her stage name from. Her 'confessional approach' is one that best characterizes her music that exudes genuine emotion and integrity that reflects her journey and strength as a human being. "Halsey is kind of like a manifestation of all the exaggerated parts of me, so it's like an alter ego." said Halsey.
Her world-dominating empire began in 2012 when she started posting videos in YouTube, Kik, and Tumblr, garnering attention with her parody of Taylor Swift's "I Knew You Were Trouble". In 2014, Halsey found herself meeting a 'music guy' at a party, who liked her voice and asked her to collaborate with him. This collaboration resulted in "Ghost", her first single posted to SoundCloud, which amassed the attention of new listeners and record labels.
Halsey takes music as a form of therapy from the rough days she endured. Since then, she wrote records that represent parts of her life and personality, dropping several hits after hits that exude power, integrity, and raw emotion.
Her biggest hits over five albums include "Colors", "Castle", "Him & I" with G-Eazy, "Eastside" with Benny Blanco and Khalid, "Be Kind" with Marshmello, "Without Me", and so much more.
Her fourth album "If I Can't Have Love, I Want Power" is described as "…a concept album about the joys and horrors of pregnancy and childbirth," Halsey writes in an Instagram post, whilst opening up about her journey of pregnancy and endometriosis.
Halsey told the press "…time has been the best thing that's ever happened to me. It's allowed me to grow and allowed me to heal and allowed me to develop."
The 'castle awaits; now's your chance to witness the power of the goddess herself, Halsey, live on stage at the Love and Power Tour near you. Book those tickets now!