Walmart AMP | Rogers, Arkansas
OMG, you can't miss Boy George & Culture Club live at Walmart Arkansas Music Pavilion on Mon, Aug 14th, 2023. Just let it go and have a blast! OMG, you won't wanna miss The Letting It Go Show 2023 Tour with the iconic Howard Jones and BERLIN! It's gonna be lit in Rogers, Arkansas this summer and there's a spot reserved just for you and your squad! OMG, snag your tix now and get ready to vibe at the sickest gig ever with the legend Boy George and his crew, Culture Club! They're gonna bring all the bops from "Do You Really Want To Hurt Me" to "Karma Chameleon" to "Church of the Poisoned Mind" and even their latest jams like "Let Somebody Love You" and "Human Zoo." Don't miss out!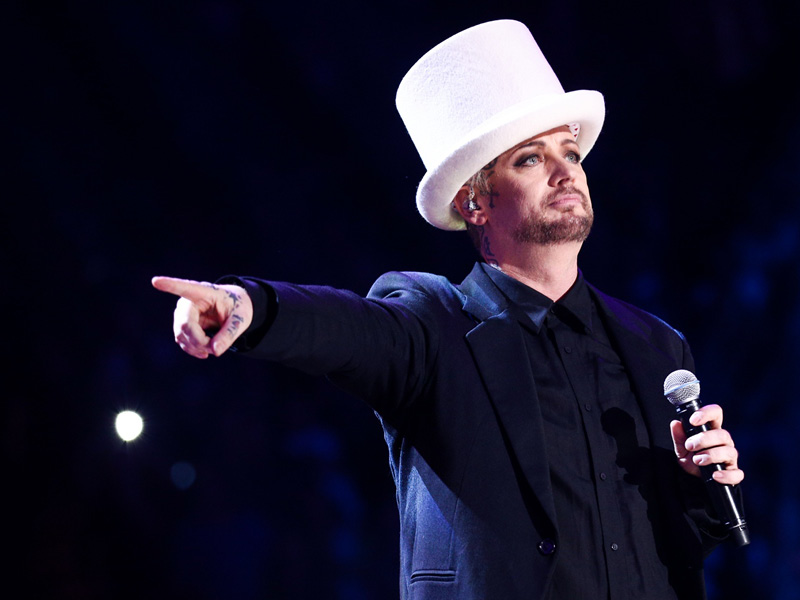 OMG, have you heard of Boy George? He's a total legend in the music scene! He's an English singer, songwriter, and DJ. OMG, he's like a total jack-of-all-trades! He's an author, mixed media artist, fashion designer, photographer, West End and Broadway actor, TV personality, and he just landed a new acting gig for 2022. #goals OMG, Boy George totally started Culture Club and has been slaying as the lead singer since like, forever ago in 1981. In the early 80s, this group dropped seven bangers that hit the Top Ten in the UK and six in the US. Their sound was a mix of soul, pop, and reggae with some serious rhythm and blues vibes. It was lit! OMG, the Boy's second album with Culture Club was lit! It sold over 10 million copies worldwide back in '83. George's androgynous vibe was so inspired by rock legends like David Bowie and Marc Bolan! It totally helped make the group a hit, especially on early MTV. It was like an instant spectacle!
In '87, he went solo, started his own label, and dropped some sick beats as, Jesus Loves You. He also wrote bangers under the name Angela Dust and had mad underground success in the 90s. He started DJing in 1990 and played for Fantazia promoters while also producing a bunch of lit remix albums that went gold. OMG, in '97 Boy George & Culture Club got back together for a lit tour and dropped the Greatest Moments album, which went platinum in the UK. #throwback #nostalgia OMG, it had some sick new tracks like "I Just Wanna Be Loved" and totally hit number 4 on the UK charts! So, like, the band went on their last tour in 2002 and then took a break because George was killing it as a DJ and had some sick shows of Taboo coming up on Broadway and in London's West End.
So like, Culture Club tried to do a tour in 2006 with a new lead singer named Sam Butcher. But then George was all like, "OMG, he's terrible and dreadful." I wanted to stan it but it just didn't vibe with me. OMG, these songs are everything to me! They're my heart and soul, my entire life! TBH, the band didn't end up touring and the idea was totally ghosted by early 2007. So, like, in 2014, the band got back together and was like "we're going on tour with a new album!" They totally rocked out all over Europe and The UK, and finally made it back to the US in 2015 and 2016. It was lit!
Like, besides music, Boy George has been up to so many things! He's been writing songs, writing books, designing clothes, and taking pics. OMG, he was on TV a bunch of times, but the most epic was when he was a contestant on I'm a Celebrity…Get Me Out of Here! in the UK. He totally slayed it and finished in 8th place in November 2022. OMG, he's won so many awards as a solo artist and also as part of Culture Club! #talent #winning OMG, in 2002 he was voted 46th in a BBC poll of the 100 Greatest Britons. So lit! OMG, in 2015 Boy George totally slayed and got an Ivor Novello Award from the British Academy of Songwriters, Composers and Authors for Outstanding Services to British Music. #legendary #musicgoals