Walmart AMP | Rogers, Arkansas
You'll be feeling that yo' mama rockin' you in a Wagon Wheel this Saturday, July 16, as the country music star Darius Rucker rocks the Walmart Arkansas Pavilion with his brand of raw yet rich country songs. The three-time Grammy Award winner will surely fire up the crowd with his signature tracks like "Wagon Wheel," "Don't Think I Don't Think About It," and "Comeback Song," among many others. Let this veteran crooner's warm, velvet-like voice make you feel emotions that only country music can do. Don't miss this country superstar to take your summer concert experience to a whole new level. Click the "Get Tickets" button to order your tickets now!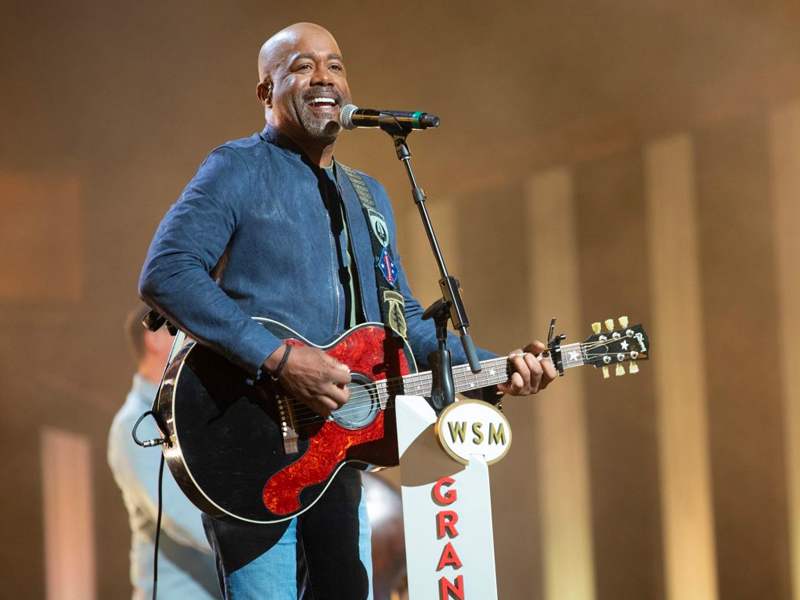 Darius Rucker is one of the most successful crossover artists that ever came across country music. As a former lead vocalist and rhythm guitarist of rock band Hootie & the Blowfish, his first shot at fame was in the rock n roll world. The band was one of the most successful bands in the 90s. The band's debut album "Cracked Rear View" was a massive success, selling more than 16 million copies and becoming one of the most successful albums of all time. However, the band wasn't able to sustain its momentum and took a break from the studio after releasing 1998's "Musical Chairs."
Darius Rucker used his free time to launch a solo career, which has allowed the singer to explore his R&B and country influences. Unfortunately, his R&B album "Back to Then" did not do well on the charts. Six years later, Rucker signed to Capitol Nashville as a country music singer, releasing the album "Learn to Live" in 2008. Its first single, "Don't Think I Don't Think About It," made him the first black artist to reach number one on the Hot Country Songs charts since Charley Pride in 1983.
His record-breaking venture in the country music scene made him an overnight success. His singles "It Won't Be Like This for Long," "Alright," and "History in the Making" all became massive hits for the new country artist. From then on, Darius Rucker gave his fans one hit after another. In 2013, he released his most successful album, "True Believers," which contained the Billboard chart-topping hits "True Believers," "Wagon Wheel," and "Radio."
Although his latest album was released only in 2017, the country star has hinted that he is back in the studio working on his first new solo album. And with new music expected to arrive soon, Rucker is heading out on tour. He will be gracing Walmart Arkansas Pavilion with his music this July 16 (Saturday.) He will be joined by American country singers Ryan Hurd and Elvie Shane.
Ryan Hurd is an American country music singer and songwriter. He has written for many singers like Blake Shelton, Lady A, and Luke Bryan. He has also recorded for RCA Records Nashville. His 2021 single with Maren Morris entitled "Chasing After You" is certified platinum by the RIAA and has reached number 3 in the US country charts. On the other hand, Elvie Shane is a country newcomer who is known for his singles "Country Roads" and "My Boy." The latter peaked at number 1 in the US Country Airplay. These two will surely make Darius Rucker's concert this September more exciting. So book your tickets now to get a hold of this event.