Walmart AMP | Rogers, Arkansas
This is going to be so loud it's going to put that silly "Metal Tour of the Year" to shame, Five Finger Death Punch co-headline with Megadeth and in support is The Hu, and Fire From The Gods all at Walmart Arkansas Music Pavilion on Wednesday, October 12th 2022. This is going to be a Rocktober for the record books, both bands are set to play a full headline set, but freaking Megadeth is just an opening band for FFDP! Insane! Grab some tickets and come to the biggest hard-rock come metal show of the year, with new music set to drop soon from both headline bands, you get to be among the first to hear it live!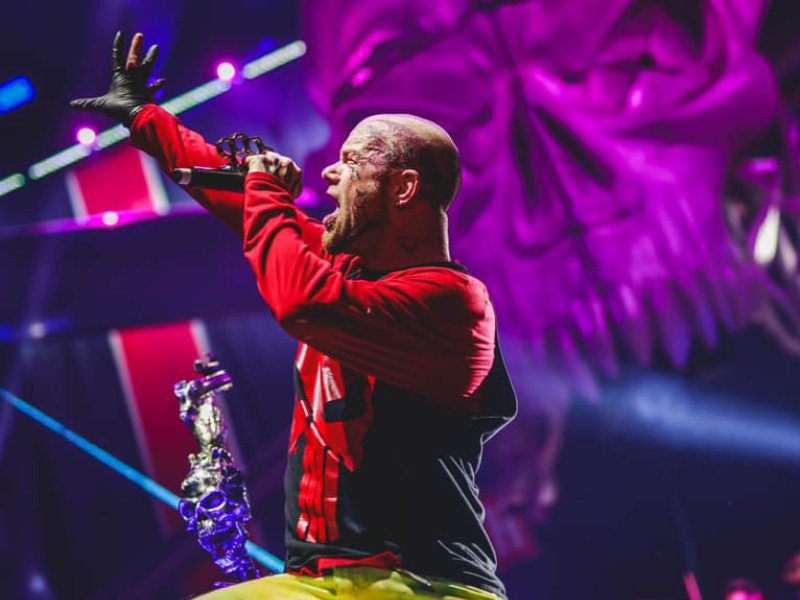 Five Finger Death Punch are from Las Vegas, Nevada, they formed in 2005, and are currently rhythm guitarist Zoltan Bathory, lead singer Ivan Moody, bassist Chris Kael, drummer Charlie Engen, and lead guitarist Andy James. The band recently released the title track off their upcoming and ninth studio album, Afterlife, and in a statement said that it is going to be "arguably the most diverse record of the band." Their previous album, F8, was released in February 2020, featuring the singles, "Inside Out", and "A Little Bit Off", both of which topped the Billboard Mainstream Rock songs chart.
Megadeth is from Los Angeles, CA and currently consists of lead singer and guitarist Dave Mustaine, guitarist Kiko Loureiro, and drummer Dirk Verbeuren. The band have tentatively slated to release their 16th album, The Sick, The Dying and The Dead, in July this year. Their previous album, Dystopia, from 2016, was widely considered an awesome return to form for the band, debuting at number 3 on the Billboard 200 with the title track earning the band their first Grammy Award.
The Hu is a Mongolian folk rock and heavy metal band from Ulaanbaatar, Mongolia. Their first and only album, The Gereg, came out in September 2019, with Loudwire Magazine naming it one of the top 50 albums of the year. They are Galbadrakh "Gala" Tsendbaatar, Nyamjantsan "Jaya" Galsanjamts, Enkhsaikhan "Enkush" Batjargal, and Temuulen "Temka" Naranbaatar.
Fire From The Gods' stated they were returning to the studio in January to record a brand-new album. Formed in Austin, Texas in 2007, they are lead guitarist Drew Walker, bassist Bonner Baker, rhythm guitarist Jameson Teat, drummer Richard Wicander, and lead singer AJ Channer. Their latest album, American Sun, came out in November 2019.