Walmart AMP | Rogers, Arkansas
Four-times Grammy Award-winning performer Gary Clark Jr. comes to Walmart Arkansas Music Pavilion on Saturday 23rd October 2021! Known for his virtuoso playing and impeccable groove, Clark Jr. is an undeniable talent whose unique hip-hop and soul flavored take on blues-rock makes him a standout performer in every way! He'll be performing a variety of tracks from throughout his career, including his defiant and seminal track "This Land"! Support comes from special guest Jessy Wilson!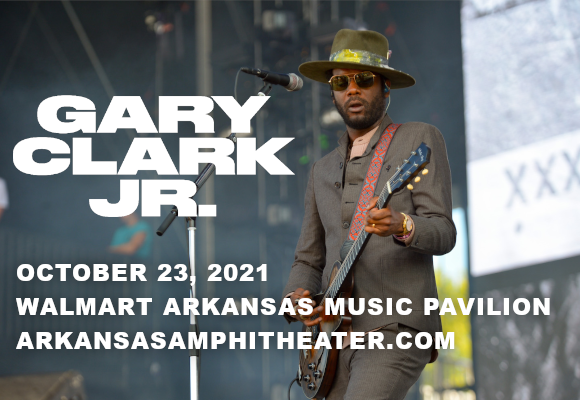 Texan singer, songwriter, and musician Gary Clark Jr. began playing guitar at the tender age of 12. A young addition to the local music circuit, he was mentored by several of Austin's best musicians, including Jimmy Vaughn and appeared on stage with Jimmy and his brother Stevie Ray Vaughn. By 2010, he was performing at Crossroads Guitar Festival alongside B.B. King, Eric Clapton, Buddy Guy, Steve Winwood, John Mayer, Sheryl Crow, Jeff Beck, and ZZ Top. Over the years, he has made guest appearances recording with a wealth of A-list musicians, including Booker T. Jones, Talib Kweli, Foo Fighters, Tech N9ne, Childish Gambino, and Tom Morello, among others. He was signed to Warner Bros. Records in 2011 and released his debut EP, The Bright Lights, later that year. He followed with the albums Blak and Blu (2012) and The Story of Sonny Boy Slim (2015). 2014 saw Clark awarded a Grammy for Best Traditional R&B performance for the song "Please Come Home". His third and most recent studio album, This Land, won the Grammy Award for Best Contemporary Blues Album in 2020, while the title track won Best Rock Song and Best Rock Performance.