Walmart AMP | Rogers, Arkansas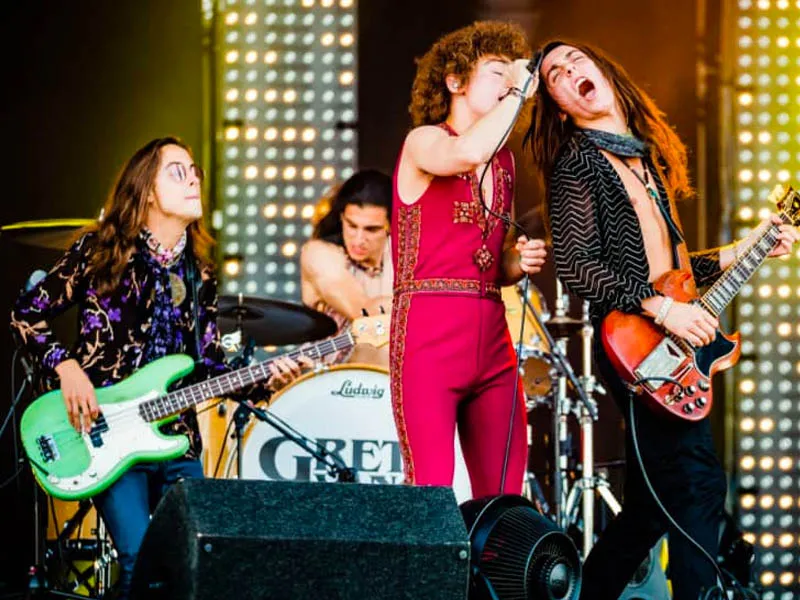 The Starcatcher World Tour is about to take all rock and roll fans on a sensational, nostalgic trip! This Grammy Award-winning act delivers the best of '70s hard rock with their unprecedented brand of music! Greta Van Fleet performs iconic music from your yesteryears, and they're set to promote their latest album! For their spring outing, Greta Van Fleet drops by Rogers, Arkansas, on Wednesday 1st May 2024! An exhilarating show awaits fans as Gret Van Fleet lights up the Walmart Arkansas Music Pavilion! Expect a plethora of iconic new singles as the band performs tracks from their latest album, Starcatcher! Moreover, massive hits from their earlier albums will also take precedence on this highly-anticipated show! If you love classic rock music, this is your chance to catch one of the most groundbreaking bands in the circuit! Hurry and secure tickets now and catch Greta Van Fleet at the Walmart Arkansas Music Pavilion!
The brilliant boys of Greta Van Fleet, the Kiska brothers, and Danny Wagner head to another thrilling chapter this 2024. Fans should brace themselves for more high-pitch singing, solo dominating, and hard-rocking tunes as the band promotes their brand new album, Starcatcher. Released last summer, Starcatcher went straight to number 8 on the Billboard 200 and number 2 on the U.K. Rock & Metal Albums chart. The effort also became a worldwide phenomenon, charting in over 15 other countries. If you think the Greta Van Fleet may be harboring some modern rock tendencies for this album, you better think again. According to their bassist Sam Kiszka, the band went for a more "raw sound." The album was reportedly their way of going to their early days in the garage - hence an exciting and raw energy.
Critics compared the album to the outtakes of Led Zeppelin and other old-school rock and roll bands. Starcatcher has spawned several singles, including "The Falling Sky," "Scared the Thread," "Meeting the Master," and Farewell for Now." This highly acclaimed record follows two incredible efforts: The Battle at Graden's Gate, released in 2021, and Anthem of the Peaceful Army, released in 2018. In 2017, Greta Van Fleet dropped two EP gems, Black Smoke Rising and From the Fires, which became their career-defining effort - winning them a Grammy Award for Best Rock Album.
This 2024, fans can look forward to a great nostalgic trip. It's as if you're hearing a band from the '70s, except these incredible songs are performed by millennial and Gen Z band members. Yes, the band has been accused of channeling the likes of Lez Zeppelin and Black Sabbath. However, Greta Van Fleet keeps the phenomenal sound of old-school rock and roll alive, and they execute it so well! So expect brand-new singles, as well as earlier hits from their high-energy setlist. Greta Van Fleet is known for their excellent musicianship, overpowering stage presence, and outstanding overall atmosphere!
It's the most exciting rock show of the season, and you better hurry and secure tickets now before it's too late! Catch Greta Van Fleet at the Walmart Arkansas Music Pavilion on Wednesday, 1st May 2024, by scoring your tickets now!