Walmart AMP | Rogers, Arkansas
The country-pop superstar and hitmaker, known for his magnetic smile and heartfelt country anthems, is back on the road, speeding up to meet fans across the globe on "The Speed of Now World Tour", led by the man himself, Keith Urban. Catch him live on stage as he makes a pitstop at Walmart Arkansas Music Pavilion on Thursday, August 18, 2022. The man behind the crowd-favorite country hits "Blue Ain't Your Color", "Long Hot Summer", "You'll Think of Me", "Making Memories of Us", and many more over the last two decades, released his latest single "Wild Hearts" just last year following his 2020 studio record "The Speed of Now Part 1". Are we gonna get a part two real soon? We don't know yet, but fans surely know that the best part is the man himself back on a world tour, performing live on stage once again. Book your tickets now!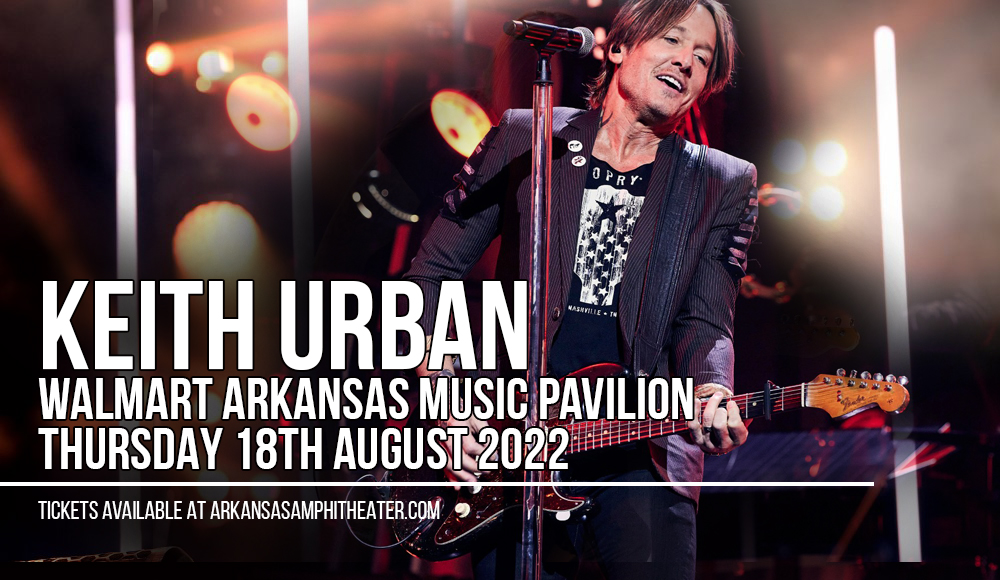 Before the man made waves around the globe as an iconic country star, Keith Urban has his roots in Whangarei, New Zealand, later on moved to Queensland, Australia where he started taking guitar lessons. He, later on, became a contestant on an Australian TV talent show in the early 80s, and later on, started to make waves in the Australian country music scene.
By 1990, he signed with his first label and dropped his debut album. 2 years later, he moved to Nashville where all the magic began. It wasn't until 1999 when Urban released his self-titled American debut album which made him the first male performer from New Zealand to enter the Top 10 on the US country charts with his single "Your Everything". Its next single "But for the Grace of God" marked his #1 US country hit.
Since then, Keith Urban continued to make waves, making a mark in the country scene. Urban has won four Grammy Awards, and many other awards and recognition from the likes of Academy of Country Music Awards, CMT Music Awards, American Music Awards, and many more. With 12 albums to date, he has 7 certified platinum awarded records.
With the country star known for his magnetic charm and captivating live performances back to perform live on stage across venues around the globe, Keith Urban himself recently called unsuspecting fans asking them for suggestions for songs to place on his setlist. The man more excited than ever started taking notes on a paper as fans chipped in "You'll Think of Me", "John Cougar, John Deere, John 3:16", and "Raining on Sunday" on the setlist.
"I've always considered myself a live performer first," says the singer. "It's what I've always done, and it's what my music needs to live and breathe, …everyone can participate in whatever way they want – sing, dance, do whatever."
So, get yourselves ready to meet the highly acclaimed crowd-favorite country hitmaker and star with a bigger charming smile than ever before as he prepares to speed things up on his latest world tour. Book your tickets now!