Walmart AMP | Rogers, Arkansas
One of country music's hottest heartthrob stars, Kenny Chesney, is finally getting ready to hit the road on his "Here And Now" tour in support of his latest studio record released in 2020, "Here and Now" featuring hit country singles "Knowing You" and "Here and Now". Joining Kenny Chesney is Michael Franti & Spearhead at Walmart Arkansas Music Pavilion on Thursday, June 30, 2022. The tour has been two years in the making after being postponed due to the pandemic, fans can finally catch one of country music's finest artists perform decades of hits and fresh new music off of his latest record. Throughout years of hits after hits including "Summertime", "Don't Blink", "Come Over", "Get Along", and many more, Kenny Chesney is set to turn up the heat in this new decade, kicking it off with Here and Now and a much-awaited tour. Book your tickets now!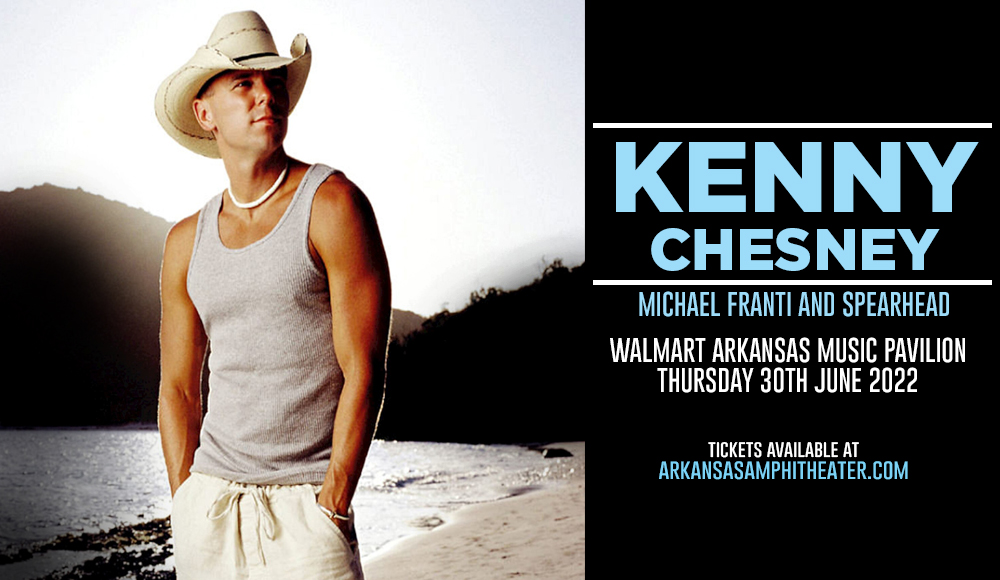 From a college dream of pursuing music as a career, Kenny Chesney recorded a self-released demo in 1989, selling over a thousand copies while taking gigs at local clubs, saving money to buy a new guitar.
Kenny Chesney made a mark as one of Country's hottest and highly-acclaimed artists with 19 studio albums, 17 of which are certified gold or higher by the RIAA. Since his debut record "In My Wildest Dreams" in 1994, Kenny amassed about twenty-nine #1 singles on Billboard Hot Country Songs and Country Airplay charts such as "Somewhere with You", "Come Over", "Setting the World on Fire" with Pink, and "Summertime".
The man has received 12 Country Music Association Awards, 11 Academy of Country Music Awards, and 6 nominations for the Grammys, among others. He's had several headlining tours and remains to be a country favorite, selling out venues for every tour.
After a two-year pause for his tour in support of his record "Here and Now", Kenny Chesney is stoked to finally meet his fans and perform his biggest hits and fresh new music live on arenas, amphitheaters, and stadiums across the country.
"Now that we finally have the chance to spend the summer together again, I really wanted to provide as many opportunities as possible for everyone to come out and celebrate the music with us…Whether stadiums or amphitheaters, I can't wait to see my favorite people in the world," said Chesney.
His last performance at Walmart AMP was in 2018, and finally, the multi-time CMA Entertainer of the Year is back to bring his signature captivating live shows that fans can't get enough of.
"There is something about amphitheaters that creates an immediacy that is so intimate… it almost opens the songs up in completely different ways," says Kenny.
Don't miss out on this chance to catch the one and only Kenny Chesney in an intimate venue, live on stage, performing his biggest hits and new music off of Here and Now. Book your tickets now!