Walmart AMP | Rogers, Arkansas
QOTSA is giving fans a two-for-one special with their latest announcement of a brand new tour, which will see the boys traversing the nation through the summer and into the fall, aaannnnddd!!! a brand new album, "In Times New Roman," scheduled for release on June 16th this year. All of this combined has sent fans into a crazed frenzy, eagerly awaiting to get their hands on tickets. Known for their high energy, show stopping sets, you can expect them to light up the Walmart Arkansas Music Pavilion on Tuesday, September 26, 2023, when they come through as part of this trek. Nobody in their right mind will want to miss out on this extravaganza, so expect tickets to sell out very quickly. But as luck would have it, you've come to the best spot on the planet to secure your place, and clicking the "GET TICKETS" button will take you through a very simple, safe, and fast process to do so. So what are you waiting for?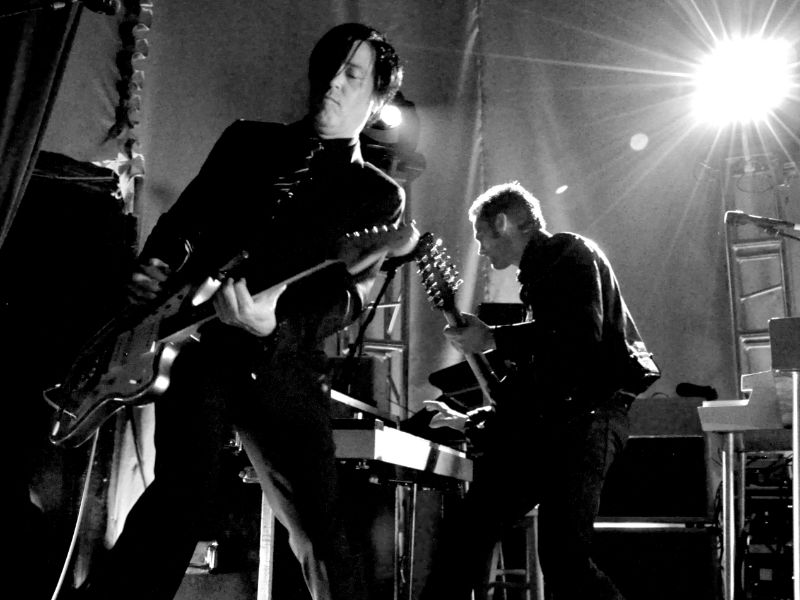 The Queens of the Stone Ages started way back in 1996, when vocalist and guitarist Josh Homme decided to put together a brand new band after the breakup of his former outfit, Kyuss. Throughout the years, the band has seen several lineup changes, but despite that, they have remained true to their roots and have become fan favorites in the genre to the point where fans can be found traveling several hours just to watch them perform live.
Their sound includes a mixture of several genres, including nu metal, stoner rock, alt metal, and rock. They released their self titled debut album in 1998 and received critical acclaim from fans and the media.
Their next project, "Rated R," was released in 2000 and did even better than the first, gaining even more media attention as it was almost pulled from retail giant Walmart's shelves for, ironically, "R"-rated material. Regardless of all of that, it gave them the platform to push them to the next level, where they found themselves opening for big names such as Foo Fighters and The Smashing Pumpkins.
As the years went on, they would carry on releasing new material and create a discography that includes 2002's "Songs for the Deaf," 2005's Lullabies to Paralyze, 2007's Era Vulgaris, 2013's "…Like Clockwork," and 2017's "Villains." By this point, they had put out seven impressive studio albums and racked up awards and nominations, such as three Grammy nominations, NME's award for "Best Live Band," and Kerrang's award for "Best International Newcomer." They've also sold an outstanding number of albums worldwide, with an estimated total of well over 3 million copies.
Now they are at it again with a brand new album, "In Times New Roman," which is due for release on the 16th of June, and in typical QOTSA style, there's an excellent tour to support it. Fans already know this is going to be one of the best shows to attend all year, and you must score your tickets right here and now to make sure you get there. So don't delay; act now!!!