Walmart AMP | Rogers, Arkansas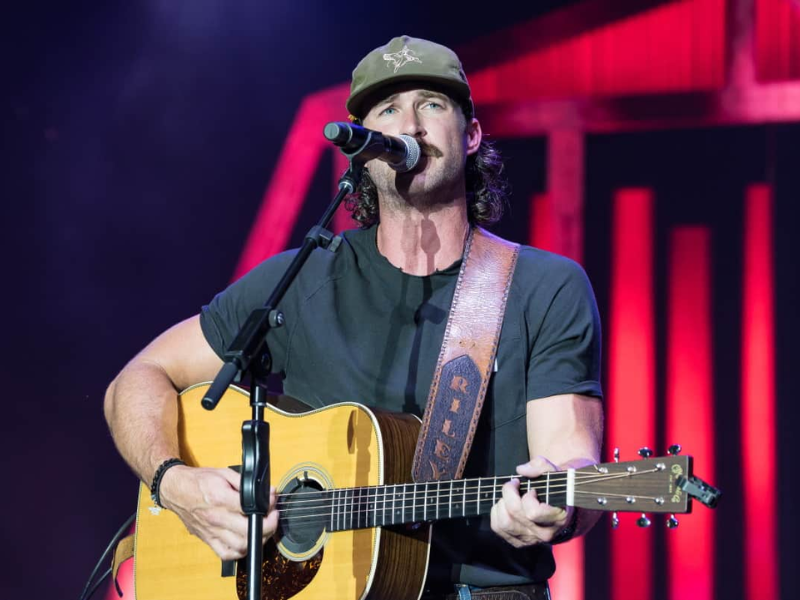 Get ready and raring for a kickin' good time with Riley Green as he takes over the Walmart Arkansas Music Pavilion next year on April 27! The Academy of Country Music awardee will embark on a nationwide tour to promote "Ain't My Last Rodeo," his upcoming album, with opening acts Tracy Lawrence and Ella Langley. Riley Green first tugged at our heartstrings in 2018 with a pure classical sound that paints the idyllic country life in colorful lyricism. His best-known hits—which include "There Was This Girl," "Half of Me," and "Different 'Round Here"—are platinum-selling chart-toppers that often dominate the airwaves of country music radio. The months-long stint will round up over thirty visits, with a special show here in the city of Rogers. The state's premier amphitheater will play host, offering the ultimate concert experience by marrying the scenic outdoors with high-end concert surround sound. So go on and click the "Get Tickets" button!
Howdy there, partner! Better strap on your boots and ride down to the Walmart Arkansas Music Pavilion if you're gonna catch Riley Green LIVE next year on April 27! This concert event, produced by Live Nation, will be part of the country singer's national tour promoting his highly anticipated sophomore album, "Ain't My Last Rodeo," with special guests Tracy Lawrence and Ella Langley. The series will run from February to June, with 33 city stops, including one here in the quaint city of Rogers, Arkansas.
"Ain't My Last Rodeo is inspired by what I know best: hard work, life outdoors, and family, and it's going to be fun adding these new songs to our full set."
Green's latest album is scheduled to drop this October 13 via BMLG Records. The project will feature twelve songs influenced by the slow rural life the artist shares with family in his hometown of Jacksonville, including a re-recorded version of his debut album's titular track. See below for the complete track listing.
Damn Country Music
They Don't Make 'Em Like That No More
Mississippi Or Me
Different 'Round Here
Ain't Like I Can Hide It
Copenhagen In A Cadillac
Damn Good Day To Leave
My Last Rodeo
Workin' On Me
Raised Up Right
God Made a Good Ol' Boy
Ain't My Damn To Give
The "good ol' boy" from Alabama has wrangled the music scene with unabashed sincerity. Famous for his no-gimmick traditional style of country melodies, Riley Green captures his values, experiences, and pastimes in vivid lyrical detail. He has touched hearts and topped charts with undeniably moving hits, from the twice-platinum "I Wish Grandpas Never Died" to the Billboard-climbing "Different 'Round Here" feat. Luke Combs. In recognition of his spectacular breakout, the Academy of Country Music granted Green the sought-after "New Male Artist of the Year" award in 2020.
As for our honored guests, we have Tracy Lawrence, a thirty-year multi-awarded veteran, and Ella Langley, the country music darling with a whiskey-smooth voice. The first is famous for his Billboard no. 1 hits such as "Alibis" and "Texas Tornado," while the second took the internet by storm with bops including "Damn You" and "Country Boy's Dream Girl."
"I've been a fan of Tracy Lawrence since I was a kid, so I'm looking forward to having him out with us and watching the fans singing along to all his hits. I also really love what Ella Langley is doing –it's going to be a great time all around," Green shares in a press statement.
On April 27, a Saturday, the Walmart Arkansas Music Pavilion will host Riley Green's Ain't My Last Rodeo live performance. This sprawling amphitheater combines the state's largest stage house and world-class concert facilities with the great outdoors, resulting in the ultimate experience for country music lovers. Grab this opportunity - get your tickets now!